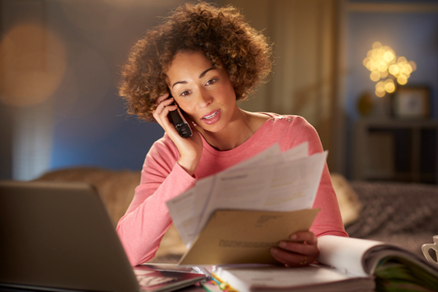 Working Together to Prevent Wire Fraud
Telephone and email scams targeting the real estate and settlement services industries are rising sharply, according to reports from the Federal Bureau of Investigation and the Federal Trade Commission, which reveal an 1,100 percent rise in business email compromise (BEC) last year and more than 250,000 spoofed phone calls alone.
Cyber-crime has become so common, in fact, that the FBI has created an Internet Crime Complaint Center (IC3) to address them.
Most commonly, as Forbes Magazine notes, a scammer will hack into a buyer's email and monitor it. When the scammer sees emails between the buyer and the real estate agent, they wait until the transaction is imminent, and at the last minute, they send the buyer a fake email made to look like it is coming from the agent. The email asks the buyer to wire the purchase money to a different account - which, of course belongs to the scammer.
Many such scams occur on Friday afternoons, the FBI says, especially the Friday before a long weekend. By the time victims realize they have been scammed, three or four days have gone by, and the chances of getting their money back are almost nil.
In the settlement services industry, scams originating from SpoofCard calls can be a nightmare, according the American Land Title Association (ALTA). The technology provides criminals the ability to change what someone sees on their ID display when they get a phone call, so they think the call is coming from one person – a person they trust who is involved in the transaction – when it is actually coming from the scammer.
Real estate, escrow and title experts have been working vigilantly to tighten telephone and email security. Many are using identity protection services specifically designed to help protect consumers from fraud, and redoubling efforts to provide early and ongoing training to employees and customers alike.
As your settlement partner, and as part of a global provider of real estate services, we take seriously the obligation to protect real estate professionals and their clients. We mandate ongoing and in-depth education and training updates to our employees, and provide strict wire fraud warnings with every communication we send. We clearly and consistently caution consumers to call us at a number they know is accurate before wiring any funds, and warn them never to use a potentially spoofed phone number they received in a last-minute phone call or email.
Working together, we can take specific actions to protect against escalating BEC disasters. As ALTA reminds us, we can:
Implement good password policies and back them up
Use dual-factor authentication for password updates
Use firewalls, anti-malware, software, phishing detection, and a secure internet gateway
Be a partner with the settlement company, confirm everything before sending a wire. Use only a known phone number, not email.
By taking the initiative, arming ourselves with the proper knowledge and business tools, and ensuring that our clients are kept aware and vigilant, we can rest a little easier and guard against the ever-evolving schemes of cyber-criminals.
Barbara Pronin is an award-winning writer based in Orange County, Calif. A former news editor with more than 30 years of experience in journalism and corporate communications, she has specialized in real estate topics for over a decade.



This material is not intended to be relied upon as a statement of the law, and is not to be construed as legal, tax or investment advice. You are encouraged to consult your legal, tax or investment professional for specific advice. The material is meant for general illustration and/or informational purposes only. Although the information has been gathered from sources believed to be reliable, no representation is made as to its accuracy.
Copyright 2021 RISMedia, The Leader in Real Estate Information Systems and Real Estate News. All Rights Reserved. This material may not be republished without permission.